As many of you already know, we decided to buy two ceramic vessels early in 2020 from an artisan in Savona to try and use them for the maturation of our wines. After a first 12-month test, here are the results of our experiment.
Why ceramics?
Let's take a step back in time and tell you more about why we made this choice; the motivations can be found both in an attempt to balance the excessive climate changes in the last years and to search for an even less invasive factor in the making of Sangiovese.
The consequences of the climate crisis are by now clear. The evident aspect is the increase of the average temperatures that have brought about more and more concentrated grapes that are rich in sugar content and thus have a higher level of alcohol, leading to more structured wines. Maturation in oak enhances these characteristics to a certain extent and gives the fruity aromas a sense of extreme ripeness, almost like marmalade, followed by spicy as well as herbal notes with a certain sweetness.
The idea was to look for a vessel that could somehow enhance the floral and vegetal components instead, while at the same time maintaining the fragrance and freshness of the fruit.
As you all know we prefer to have very good control of the aromatic flavors that are passed from the wood to our wines. While using small barrels as they are easier to manage, we rarely use new heavily toasted barrels but rather prefer older ones that have been used for several years.
During the first year in the bottle, when the wine is still suffering from "bottle-ache" due to the stress from filtration and bottling processes, our Chianti Classico Riserva has, despite the use of older barrels, notes of boisé, typically from the wood, that integrates well after only a couple of months.
A couple of years ago, I started researching for a vessel to use in combination with the oak barrels to try and solve these two necessities. Already from the beginning, I excluded terracotta probably because it is too oxidizing in the long run, and, the fact is that I have never tasted a Sangiovese matured in amphora that lived up to my standards even though I have tasted excellent wines aged in amphora from all over the world.
In the beginning, I was inclined toward cement, as it is a rather porous material, that could allow micro-oxidation of the wine and let a light airflow through as in wood, but nothing else being an inert material.
Two problematic aspects became clear after the first visit to some producers of cement vats: firstly, the rich porosity of the cement in part is in vain as the walls have to be very thick due to structural necessity; secondly, the difficulties to handle these large and very heavy tanks in our small cellar.
Therefore, my father, Fernando, and I went to visit Luca Risso at the booth of his company Clayver, at a wine fair. Luca Risso explained the possibility of using a special mix of ceramic grès that could have a higher level of porosity. He then showed us that even if the porosity remains lower with respect to the one in cement, the reduced thickness of the ceramic vessels can still contribute to a gaseous exchange with the outside.
I had seen in the portfolio that Clayver sells these vessels all over the world, but I asked him about references to Sangiovese producers, especially in the Chianti Classico area. The excellent references that Luca indicated among our Chianti Classico colleagues were what tipped the scale in favor of me buying two ceramic vessels of 400 liters to try with our wines.
The first year of experimentation
I wanted to use the two vessels for an experiment with two different wines during one year, from spring 2020 to spring 2021.
I filled the first Clayver with 400 liters of Chianti Classico 2019 right after the malolactic fermentation while the rest of this wine as usual went into oak barrels for 12 months. It was not my intention to use this kind of vessel for the Chianti Classico Annata, as all things considered I believe that this type of wine needs some time in wood to acquire complexity during its evolution, but I needed it to test the potential of ceramics on a wine that had never been in contact with wood.
On the other hand, when it came to the second vessel, I wanted to test the idea I originally had for these ceramics; therefore I filled it with 400 liters of Chianti Classico Riserva 2018 that had already matured for one year in oak barrels. The remaining part of this wine was aged in barrique for another 12 months as usual.
Afterwards, we needed to wait a year to be able to compare the wine aged in ceramic vessels with the wine aged in the classical way in oak.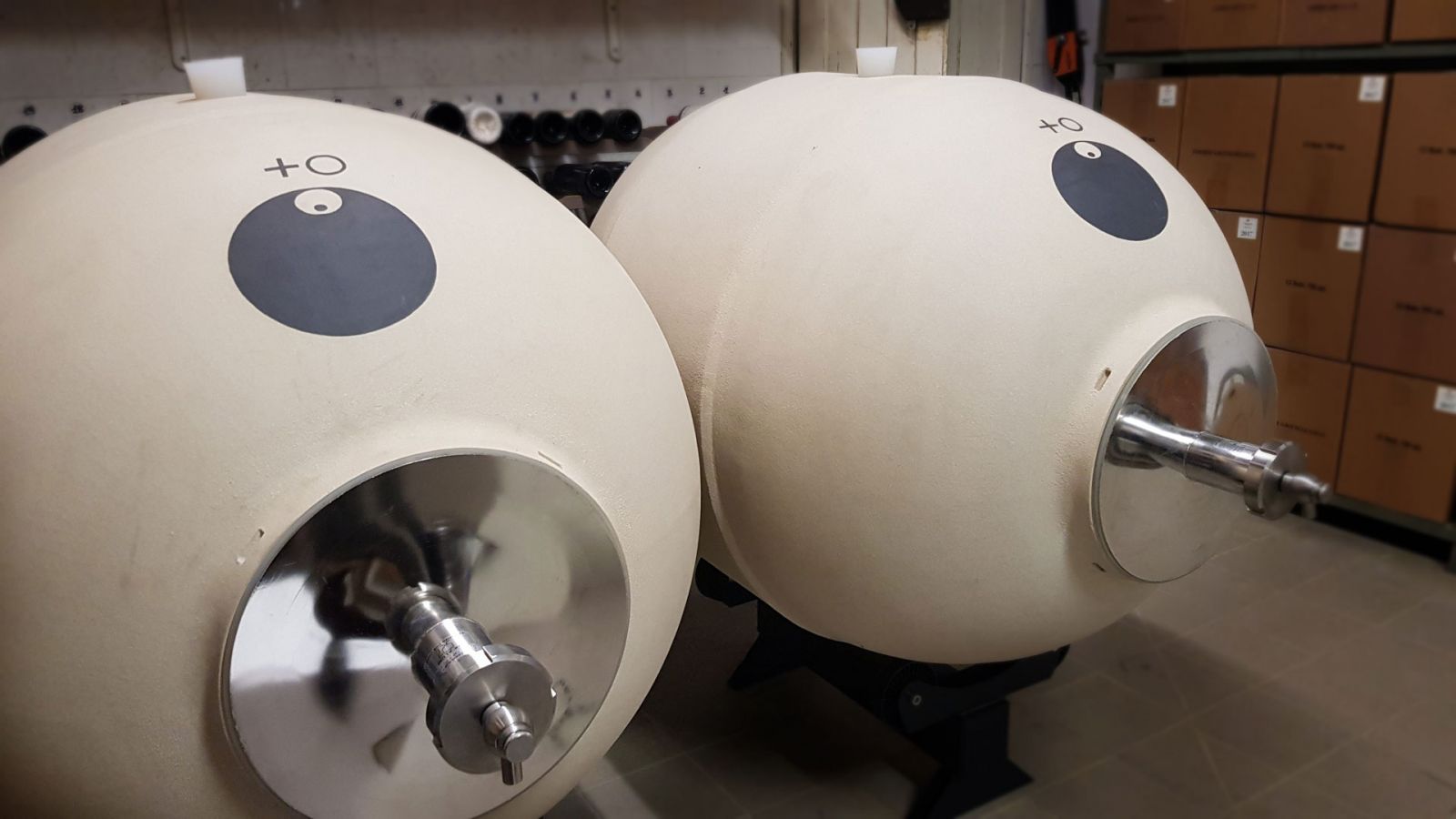 Tasting test
After one year of maturation we have finally been able to appreciate the results, but already at the first sips, the risk was the inability to be unbiased. Therefore, I decided to organize a blind tasting with a group of wine experts and wine lovers to get a more objective evaluation.
With the help of Manila we managed to organize a couple of tastings here at the winery by inviting some sommeliers, wine critics, producer colleagues, technicians, and experts that we know. For those who could not come to the winery, we sent some samples directly to their homes.
We had asked the tasters to fill out an articulated questionnaire where we asked them to compare two samples at a time: the first comparison was between the Chianti Classico 2019 that had only spent one year in ceramics with a sample having spent one year in oak. The second comparison was aimed at highlighting the differences between Riserva 2018 that had completed one year in oak and one in ceramics and the one that had matured for two years in oak.
In the questionnaire (if you want to have a closer look you can find it here in Italian), we asked the tasters to evaluate the different samples by comparing the aromatic profile, structure, freshness, complexity, and typicity. Then, we asked them to indicate their favorite wine in each pair of samples.
In the end, we managed to gather more than 20 eminent opinions that confirmed my own impressions.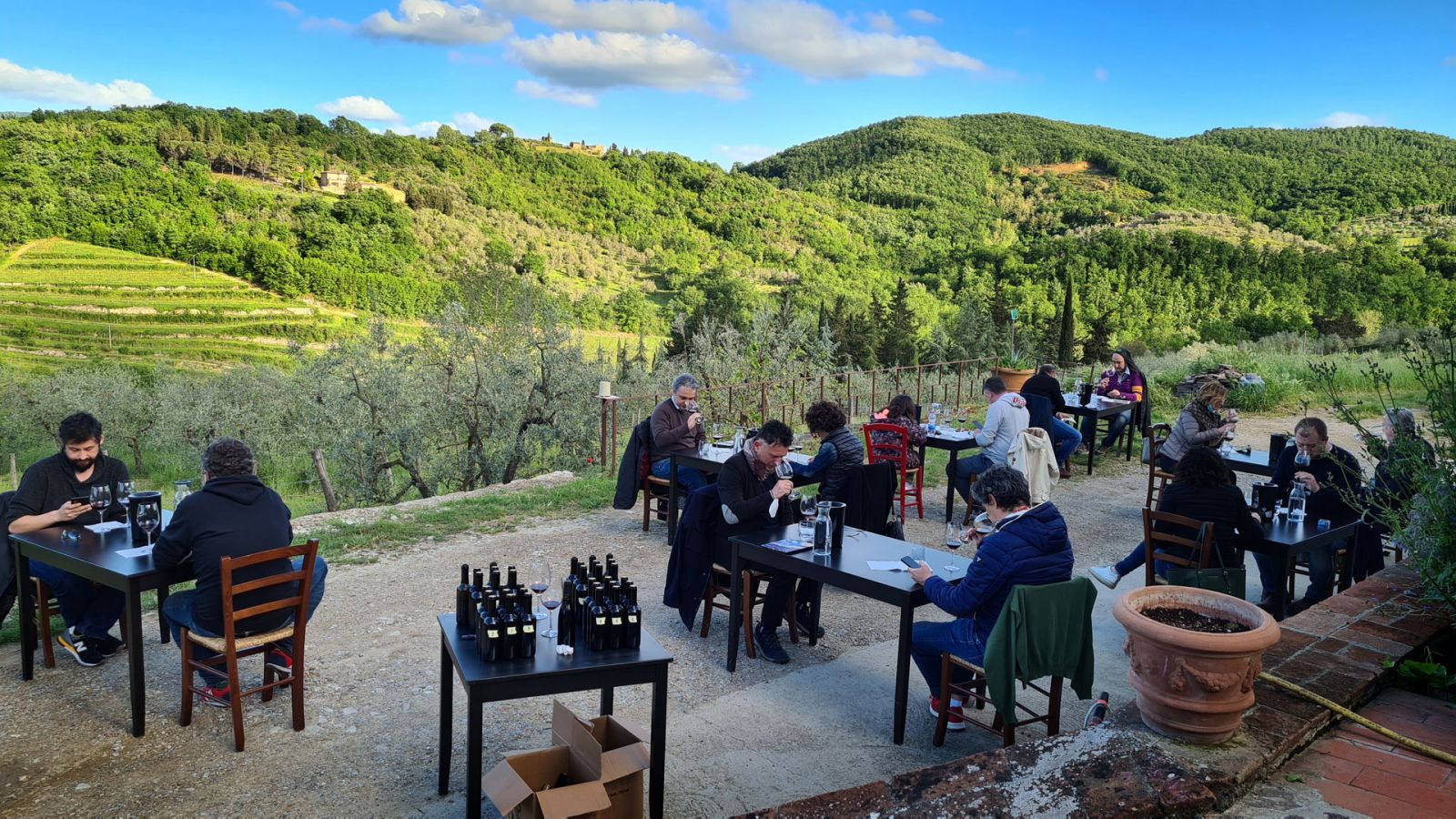 The results
Chianti Classico 2019
Regarding these two samples, the result was a greater preference (even though by only 52%) for the sample aged in oak, just as I had expected.
Even though it seems that everyone thought the sample that matured in ceramic vessels was fresher and more drinkable, many, just like me, thought that this type of wine needs to have a greater complexity that only maturation in oak can guarantee.
Just as was the initial intention, the comparison between these two samples was only to analyze the potential that ceramics can have for a wine that has never come into contact with oak.
Chianti Classico Riserva 2018
This was the comparison that was most important to me as it was based on how I really would like to use the ceramic vessels; and here I must say that the results confirmed my thoughts exactly!
More than 80% of the participants showed that they preferred the Riserva sample which had been matured one year in oak and one year in ceramics compared to the classical Riserva that had matured for two years in oak.
The results have already revealed how ceramics can maintain a wine's freshness and drinkability without making it too heavy, while at the same time it maintains the floral notes and the perception of vibrant acidity. The tannic texture also seemed more balanced and elegant in the sample that had matured for one year in oak and one year in ceramics.
For those of you who would like to take a closer look at the result, you can find them here in Italian. Here are the sample numbers and the corresponding wines:
Chianti Classico 2019 matured one year in ceramics
Chianti Classico 2019 matured one year in oak
Chianti Classico Riserva 2018 matured one year in oak and one year in ceramics
Chianti Classico Riserva 2018 matured two years in oak
So what now? What will we do?
Given that it will be necessary to try the samples again in two more months and even in two years to better understand how the wine will evolve in the bottle, the idea is to continue with the initial objective to modify the maturation of our Riserva to two years in oak and one year in ceramics.
The two Clayver vessels in ceramics have been filled with 800 liters of Chianti Classico Riserva 2019 that have already been matured in oak for 12 months, however, it will be necessary to buy other ceramic vessels to make sure that all our Riserva wine can mature one year in ceramics.
We will get there step-by-step, but in the meantime, we will be able to continue and test the differences.