How come there are two bottles of wine produced in Iowa, in the US, on the table at Montefioralle? Well, it is a long story that had its beginning a couple of years ago.
Getting to know Chris
It was in the autumn of 2014, when Chris and his wife Erin came to visit us at Montefioralle to taste our wines. They turned out to be very curious guests that asked a lot of questions. I remember that Chris was very attentive and tried to understand every detail of the production phases: from the work in the vineyard to the winemaking processes.
Both Chris and Erin enjoyed our wines a lot during the wine tasting and it was in that moment that he confessed his dream: he would like to start producing wine at home in Iowa.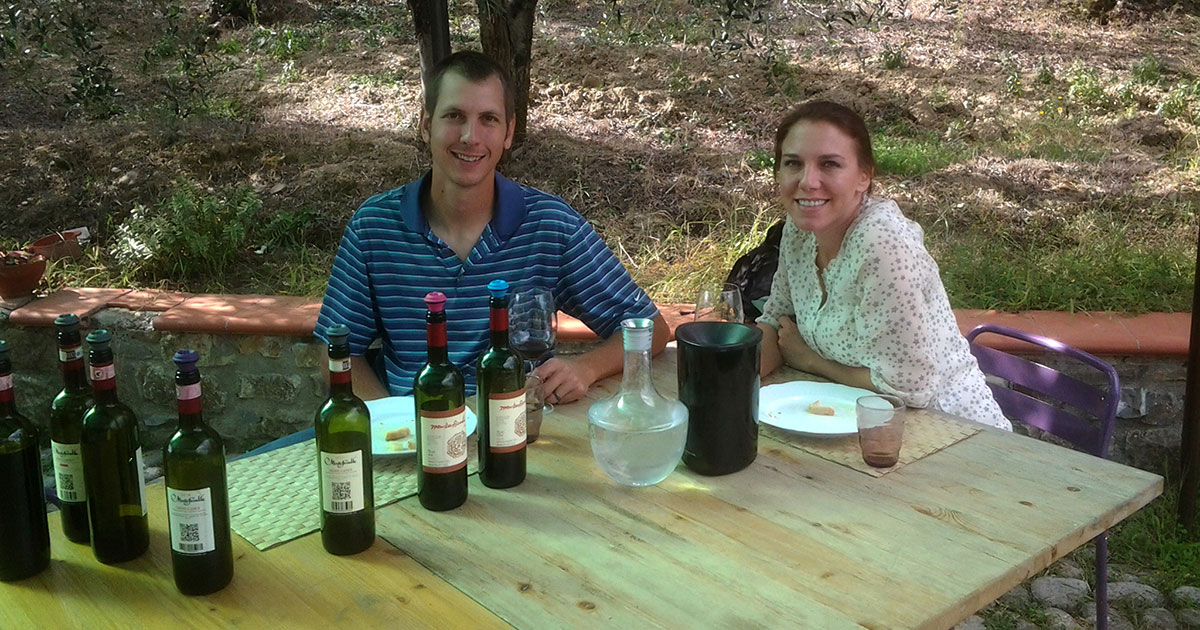 Petite Pearl and Frontenac Blanc
For those of you who are not very savvy about viticulture you should know that the weather conditions in Iowa are not at all favourable for vine growing. This is mainly due to harsh temperatures in this American state.
Therefore, the project of Chris meant he had to plant a vineyard plot with Petite Pearl, a grape variety that is a crossing of vitis vinifera with the native American vine to obtain a variety that is resistant to low temperatures, has a very short maturation cycle, and is resistant to diseases (click here to read more about Petite Pearl)
I was really curious about this project and asked Chris to keep me updated about the developments. He kept true to his word and during the last few years I have received several emails from Chris where he has told me about all the processes.
In 2015, Chris managed to plant ⅓ acre (circa 1300 sqm) of Petit Pearl and as much of another white grape variety, namely Frontenac Blanc. Thus, he could start his small winery Compass Hill Vineyard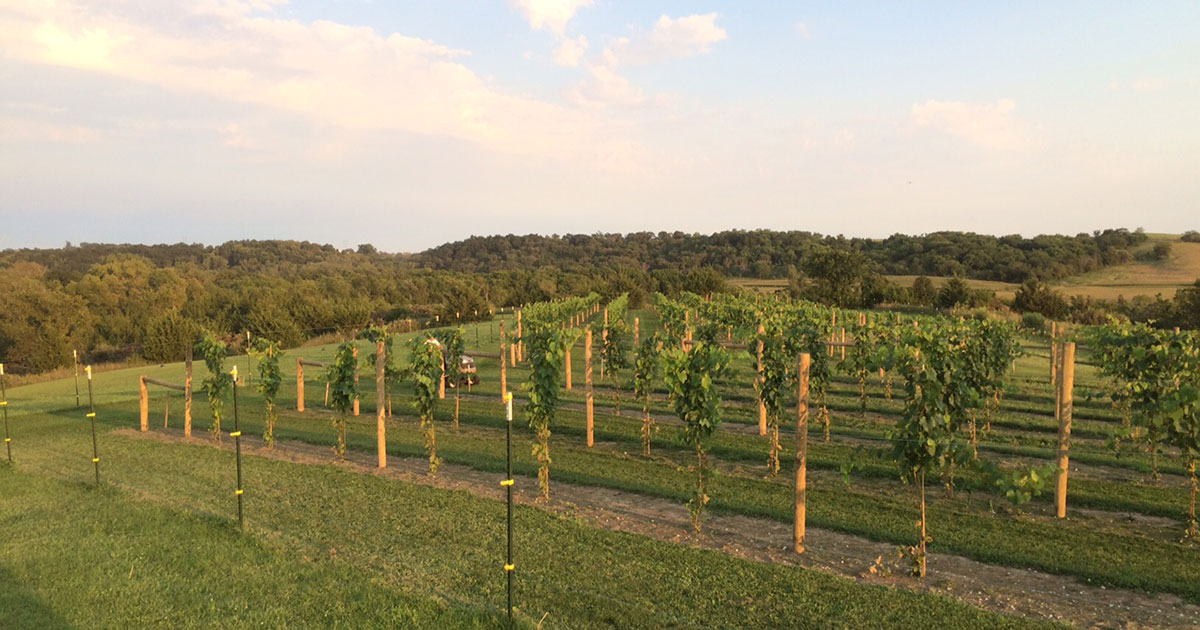 The first harvest in 2017
Chris and Erin came back to visit us at Montefioralle in the spring of 2017. They then told us that they had managed to plant another ⅓ acre of Petite Pearl and that they in the autumn would have done their first harvest. They were really looking forward to it.
In fact, in September 2017 Chris sent me photos of their harvest. What an amazing feeling! What a different shape the Petite Pearl has, the clusters are so tiny that they fit in the palm of your hand.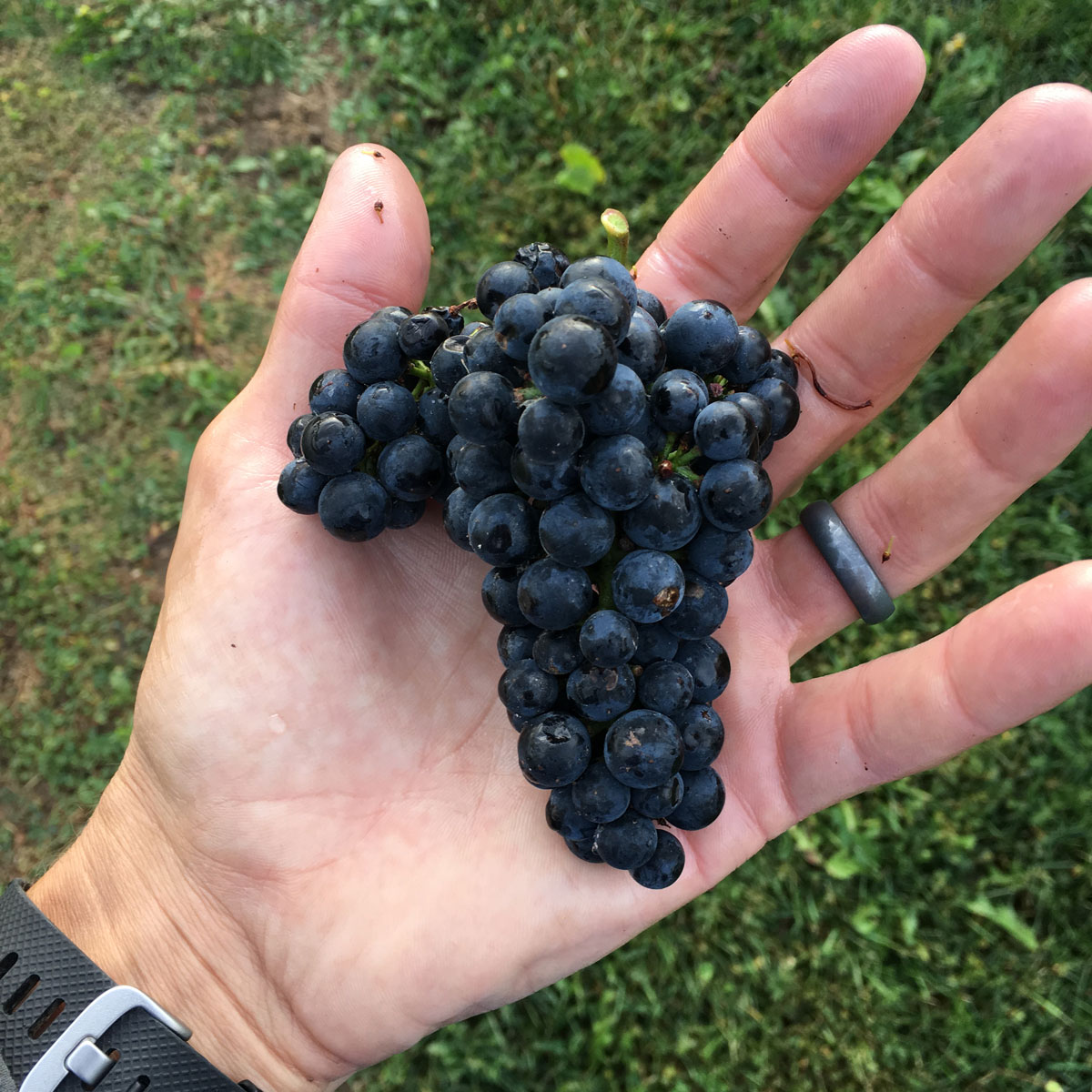 Casting out 9s: The Tasting
Here we are in 2019, and earlier this summer Chris wrote that they would come back to Italy in the autumn. This time bearing gifts! He wrote that they would bring two bottles of their first release of wines: a Frontenac Blanc and a Petite Pearl. What wonderful news, after 5 years I would finally be able to taste their wines!
On a Sunday in October, I met Chris and Erin in Montefioralle. They had also brought two friends with them, Tim and Kirsten, who help them out in the vineyard in Iowa. They had two bottles with them that have been 'vinified' at Covered Bridge Winery, but only with grapes from Chris vineyard plots (this until he will have his own winery building set up).
We tasted the Frontenac Blanc at the table under our pergola at Montefioralle accompanied by some fresh olive oil. This wine made with a German grape is very interesting. It maintains the high acidity in a climate such as in Iowa, but on the palate it is not thin at all, rather its rich pulpy texture is in balance with the depth of the wine.
We finished the bottle in a matter of minutes, though we managed to save a sip for my father Fernando, who joined us and from there, we then went for dinner at Bottega del Moro in Greve in Chianti. Together with our Montefioralle wines we also tasted the Petite Pearl at the restaurant.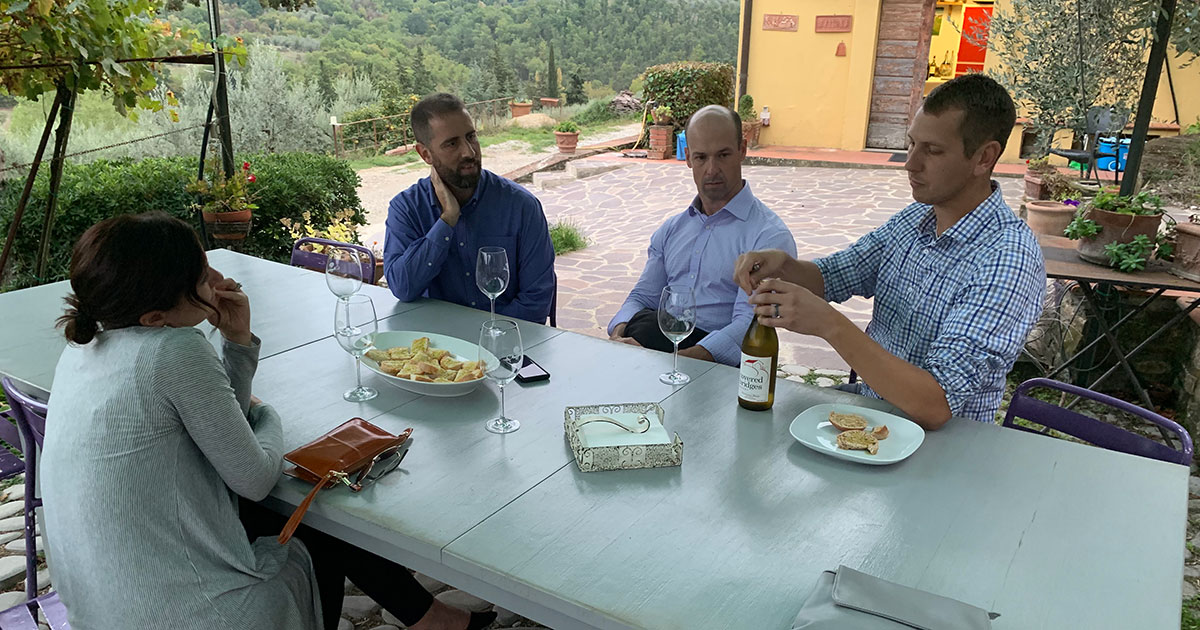 Petite Pearl at the vintners' dinner table
At the restaurant we discovered that some of my father's friends were sitting at the table next to us, Marco and Romolo who are both producers of Chianti Classico in Panzano and Radda respectively. Each and every one of us shared the bottles we had brought with everyone, and we were all curious to taste the wine that Chris had brought from the US.
The moment arrived when it was time to open the Petite Pearl, where Chris, who seemed very excited, opened the bottle and poured the wine.
The wine was a wonderful surprise: a smooth and captivating wine where the harder sides are softened out followed by a lovely, rich fruit and velvety tannins. Personally, I must say that it is a wine with a unique character and a strong identity. I have never tasted anything like it before.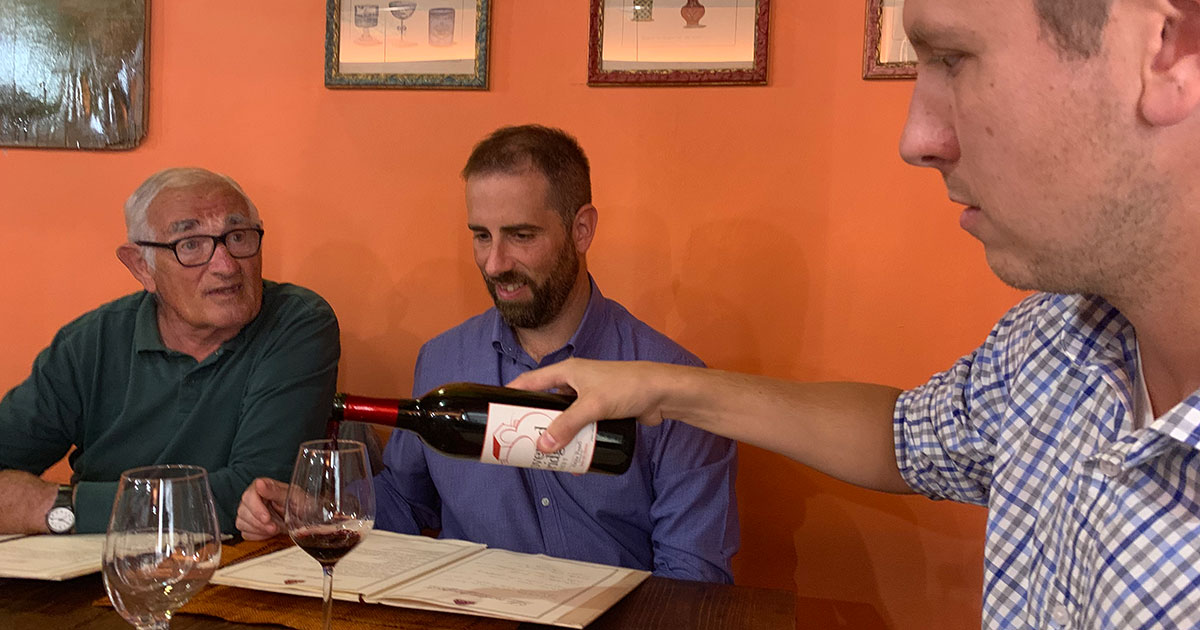 ​
A big cheer to Chris and his family and friends who support him in this ambitious project.
We cannot wait to taste the coming vintages!