Virtual wine tours and tastings
Our virtual experiences for this year have ended
They will be rescheduled from spring 2021
Close your eyes, and dream yourself away for a moment...
far away from commotion, where everything is silent and calm…
Look out the window and…
imagine rows and rows of vines as far as the eye can see,
imagine breathing in the scents of nature, perfume of grape nectar right under your window…
imagine looking up at the blue sky with puffy white clouds and a gentle breeze delicately embracing you
imagine the chirping of birds and the faint hum of a tractor in the distance…
Can you guess where you are?
You are right in the heart of the historical Chianti Classico area, surrounded by the rolling hills which are the symbolic trademark of Tuscany. A region with thousands of years of history.
Life is slower here, under the Tuscan sun
Experience a typical day at Montefioralle
What if we suggest you could not only "imagine" a trip to Tuscany, but that you could actually experience a real trip to Chianti country through your senses and perceptions? All without needing to hop on a plane (consídering the period) and being able to stay comfortably in your own home, would you consider us crazy?
On the contrary, we are serious and even though it is currently unfeasible to travel, it is absolutely possible for you to take a trip to Tuscany to visit our winery and taste our wines virtually. It is all in live streaming.
How to do a virtual winery visit
During this period of social distancing and the impossibility of travel, we would love to have you visit us through a virtual visit to our vineyard and winery followed by a tasting of our wines:
Sunday June 21, 2020
Saturday June 27, 2020
Saturday July 18, 2020
Sunday July 26, 2020
Saturday August 1, 2020

new date!
We will go live at 6pm local time (CEST) / 12pm EDT (East Coast) / 9am PDT (West Coast). We will take you on a tour of the vineyards and winery in the first hour, and share a tasting of our wines in the second hour.
We will use the Zoom app to connect our family here at Montefioralle with the participants that have signed up. The live stream will be in English.
We will take a virtual tour of the vineyard and the wine cellar via a mobile camera and thereafter we will taste our 5 wines all together. The participants can buy the wines in advance and have them delivered directly to their doorstep.
The participants can interact in the live stream by asking questions or requesting more information. We will be happy to reply to all queries.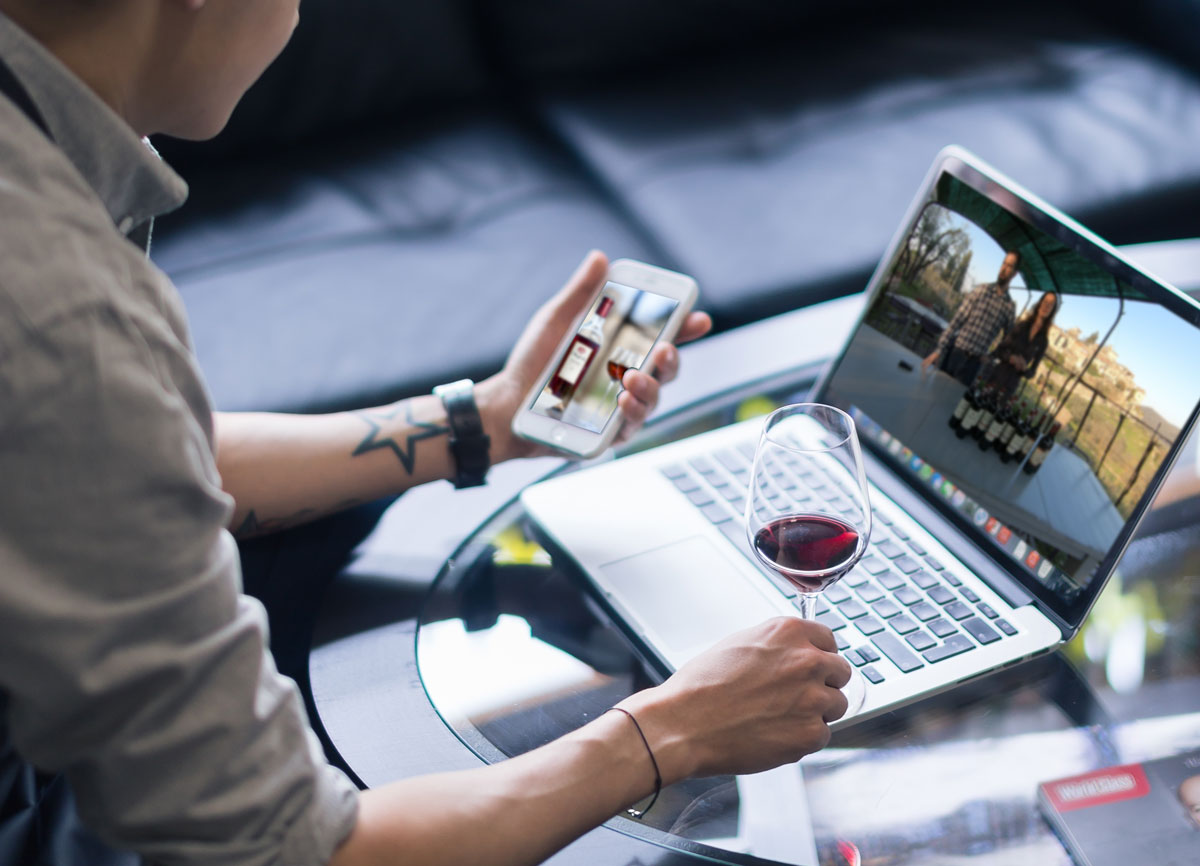 How to participate
STEP 1 - Buy our wines online
At every live-stream event, we will taste the following wines after the winery tour:
Chianti Classico Montefioralle 2017
Chianti Classico Montefioralle 2016
Chianti Classico Montefioralle Riserva 2016
IGT Monteficalle 2017
Vin Santo del Chianti Classico 2016
Extra Vergine Olive Oil
Click on the button below to add a bottle of each of these products to your basket. In that way, you will have them close at hand to taste with us during the live stream.
You can, of course, also buy more bottles if you feel like it, or, if you do not want all of them, you can buy fewer bottles. It is not mandatory to have them all during the live stream.
Depending on your country of residence, it can take up to 25/30 days to receive the wines but as soon as they arrive, you can proceed to STEP 2.

STEP 2 - Register for the live stream
Register for the live stream by filling out the form below where you can also select a date of your choice (you can register once you have received the wines).
The nominal registration cost for every connected device is € 10,00. It goes without saying that a user that connects with his / her device can share the experience of the virtual visit and wine tasting with other family members or friends while in the same room.
Once you have registered, we will send you the joining info along with information about service temperature for those of you who want to pair the wine with food.
Then we will be ready to meet around the virtual table and share a unique wine tasting experience with you right here in Chianti.