Visits and Wine Tastings

Wine tastings
Our winery organizes tastings by appointment only.
You can organize the tasting of our wines – Chianti Classico, Chianti Classico Riserva, IGT and Vin Santo – at the foot of the hill of Montefioralle on our farm.
On these occasions the Sieni family will be happy to spend time with you describing the special features of their wines.
Generally, it is always possible to taste different vintages of our wines, allowing you to better understand the importance of the aging of our wines and the unique characteristics of each vintage.
We only serve some lighter snacks to pair with the wine. Unfortunately, we do not have the capacity to serve full meals.
Depending on the time of year, the tasting can be carried out in the small room above the basement, or outdoors in the square surrounded by vineyards and one of the most beautiful views in the world: the Chianti countryside and the view of the Montefioralle village.
Visit the vineyard and cellars
Along with the tasting of our wines, we will be happy to take you on a visit of our vineyards and our small winery, located right in the middle of our farm.
There the basic processes for the production of our wine will be explained, from mashing the grapes through winemaking and aging to bottling.
We are available 10:00 - 17:00 (10am to 5pm) every day from Monday to Sunday, upon confirmation of your reservation.
All adults pay, both drinkers and non-drinkers, only children are free.
If you are interested in organizing a tour and tasting at our farm, please contact us to book well in advance. Our family is not able to receive more than 5 or 6 small groups a day during peak season, as there are many requests.
You can book your visit by using the following form.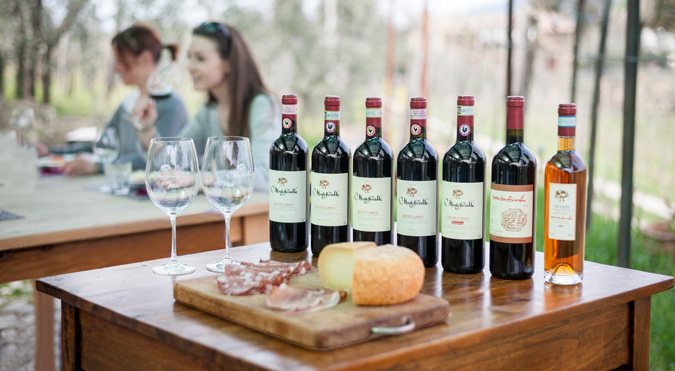 Book now
The following form requires a credit card payment, if you prefer to use PayPal instead click here
Loading...