Tasting the new vintages (2016 -2017)
In order to check the evolution of the wine and to be sure that there are no problems during the maturation period, we every now and then taste samples from all our barrels. A small wine sample is extracted from every barrel and then tasted by Lorenzo and Fernando.
A few months have passed since we did a sample tasting last time, and the tasting carried out the other day made it possible for us to evaluate the situation of the vintages 2016 and 2017. See a list below of the wines we tasted:
Wines to bottle before the summer:
Chianti Classico 2017
Chianti Classico Riserva 2016
Chianti Classico Gran Selezione 2016
IGT Monteficalle 2016
Wines that will be bottled next year:
Chianti Classico Riserva 2017
Chianti Classico Gran Selezione 2017
IGT Monteficalle 2017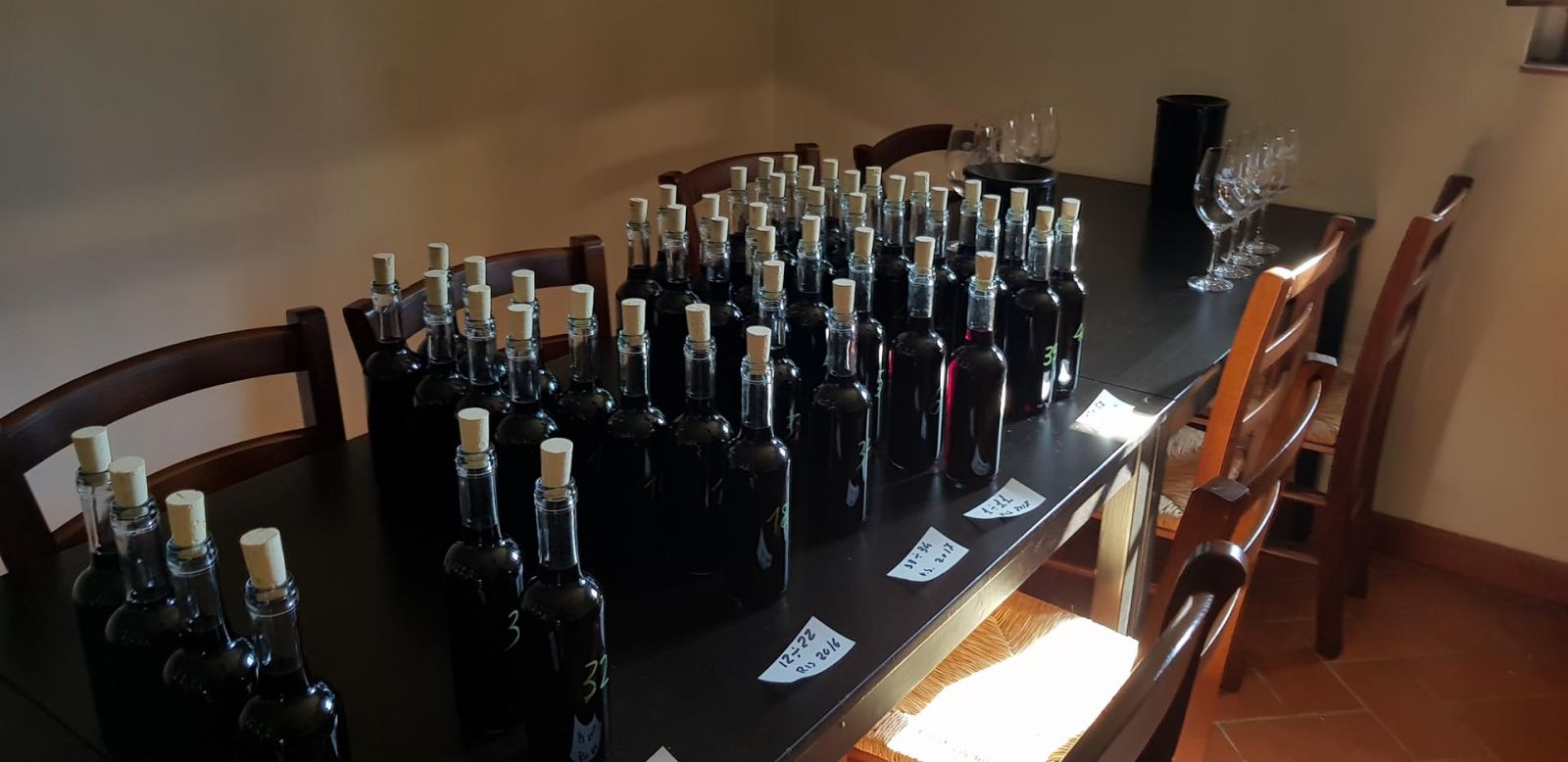 There is an important difference between the two vintages. During 2016, the climate started out with very warm summer during June and July but, thereafter, the temperatures went down, especially during the mornings, in August and September. This made it possible to maintain a good acidity and to bring forth an excellent phenolic maturation thus pushing the harvest to the end of September. The 2017 vintage was, on the other hand, one of the warmest years that we have experienced, but above all one of the driest. The vines suffered a great deal of water stress, and the grapes were considerably dehydrated and thus had a high sugar concentration.
The Riserva and the Gran Selezione of 2016 are excellent examples of a balance between structure and elegance, showing overall what we have already seen in the Chianti Classico 2016. It is no doubt one of the best wines produced in recent years.
Also, IGT Monteficalle 2016 has shown to be very slim and vertical even though the Cabernet and the Merlot that generally gives the wine more body is a bit "staid".
The sample tastings of the 2017 vintage turned out to be a very positive surprise! Thanks to our tastings, we could prove ourselves wrong in our belief that the wine might be too heavy and with a predominance of the fruit to the disadvantage of the floral notes, due to the drought and the heat. We have found that the 2017 is certainly a powerful and concentrated wine but without lacking in finesse and with a good and pleasant acidity. At the nose, there is a certain complexity that is so typical for the Montefioralle wines.
We are indeed very satisfied with the evolution of these vintages and we are about to get ready to prepare the wines for bottling. During the coming month we plan to bottle the IGT Monteficalle 2016 by hand, while we for the Chianti Classico 2017, Riserva and Gran Selezione 2016 need to wait for the bottling truck to come in early June.